Your number one podcast for all things family life, breastfeeding, and business - hosted by Director of Well Fed Photography, Ariana Youmans Keenahan. The podcast is available across all major platforms – including Podbean, Apple Podcasts, Google Podcasts, Spotify, and YouTube. You can also episodes directly on our website at https://wellfedphotography.com/living-a-life-well-fed-podcast/! And if you have interest in sponsoring or advertising with the podcast, we invite you to submit the form at the bottom of the page. ////// We are delighted that listeners and viewers can now support the show via Patreon by clicking the link below and selecting their preferred membership tier! https://www.patreon.com/wellfedphotography?fan_landing=true ////// Would you or someone someone you know like to be featured on the show? Use the link below to get started: https://app.picspotr.com/contact/index.php?photographerId=28573&pull=215 ////// Have interest in sponsoring or advertising with the show? Use the link below to get started: https://app.picspotr.com/contact/index.php?photographerId=28573&pull=213
Episodes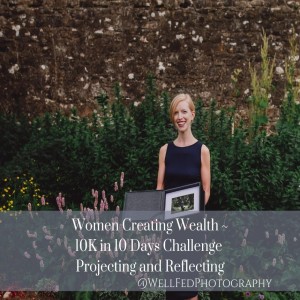 Thursday Sep 30, 2021
Thursday Sep 30, 2021
Women Creating Wealth ~ 10K In 10 Days Challenge By Well Fed Photography (Day 9)! 
Opt into the challenge here (and be notified of future challenges like this).
//////
Welcome to Day 9 of the Women Creating Wealth ~ 10K in 10 Days Challenge.
Today is all projecting and reflecting. 
I was inspired to create and include this as part of the challenge after the phenomenal interview we shared with Solera on Day 2 of the Challenge (if you missed it, you can view it here).
During the interview Solera talked about seeing yourself as the version of you that you want to be 20 years from now, with all of the things that you desire – the material possessions, the car, the wealth – and ask yourself, "Then what?"
Because the truth of the matter is that there is always something deeper to what we desire – including our desires for material possessions. It's what we think they will bring us, who we think we will be when we have them, what we think we will experience, and how we think we will be able to impact the world once we have "arrived"…
But if we connect to the deeper layers now, we can begin to have those deeper desires manifest in our now, too.
I'd also like to add that there is not a single thing wrong with desiring something purely to have it. As discussed with Jess in the interview that released yesterday, our desires offer important clues about our lives, so it is important to allow ourselves the space to follow them with wide-eyed curiosity, rather than judgment.  
To dive deeper into the topic of projections and reflections, enjoy today's video.
Do you allow yourself to be the fullest expression of you? Are you ready to stop making anything about yourself wSo picture yourself 20 years from now. You've arrived. What material possessions do you have? What is your income level? What does your life look like? What does it feel like? How do you care for yourself? With whom do you spend your time? What matters to you now? Then what?
//////
If you happened to miss Day 8, you can catch up here: Women Creating Wealth ~ 10K In 10 Days Challenge By Well Fed Photography (Day 8)!  
//////
Looking for great gift ideas? Enjoy our Products We Love page where we've put together a list of some of our favorite products and gifts for families - from selfcare to playtime, reading and workbooks, as well as helpful items around the home. We've even covered potty training! Check it out here: https://wellfedphotography.com/products-we-love/